School pictures will be taken on Tuesday, September 21, 2021. Order forms will be sent home with picture proofs at a later date. Wear your best Buffalo smile and say cheese!
Financial Math students visited First State Bank of Uvalde to learn about banking services.

Mrs. Van Pelt's students spend Wednesdays reading in the library. #lifelongreaders #lifelonglearners
85 Revaldina District FFA Members attended the Greenhand Camp held at Utopia ISD on September 15, 2021.

4H meeting tomorrow (9/7/21) at 3:45 pm in the school cafeteria. Athletic photos will be taken on Monday (9/13/21). Jr. High/ High School-Fall and Winter Sports.

All students meals are free this school year, no meal application necessary! We will be sending meal applications home with students today to establish Free/Reduced status for the first thirty days of NEXT school year. If an application is not turned in by September 24, 2021, your student will be charged full price for meals when school year 2022/2023 begins. Feel free to call or email Kim Reyes with any questions or concerns at (830) 966-1928
kreyes@utopiaisd.net
.

STILL NEED SCHOOL SUPPLIES? If you still need school supplies for your student it is not too late. Hill Country Samaritans has donated several backpacks loaded with grade specific school supplies for. Please feel free to stop by the school library and pick up a backpack for your student's the grade!

FALL ATHLETIC PICTURES All Junior High and High School athletic pictures for Cross Country, Volleyball, and Basketball will be taken on Monday, August 23rd before school, during the athletic periods, and after school. For more information contact Coach Harris at (830) 966-1922.

Online Student Registration via Parent Portal is now available. ALL students need to have online registration complete by August 20, 2021. Log into your parent portal and click on "Registration" under each student's name. Complete each necessary form. Don't have a Parent Portal set up? Click "Create Account" to get one up. You will need a portal id #. Contact Mrs. Stacy at 830-966-1921 or email her at
tstacy@utopiaisd.net
to obtain the portal id #. Brand new UISD students must complete new student registration before gaining access to Parent Portal. For new student registration please contact Mrs Meyer at 830-966-3339.

BACK TO SCHOOL BASH SATURDAY, AUG. 7TH 10am - 1pm MEDINA'S CHILDRENS HOME Utopia will be providing transportation for anyone that would like to attend. Please call Mrs. Chamness to reserve a spot on the bus. 830-966-1928 School 830-263-4911 Cell Bus will leave at 10am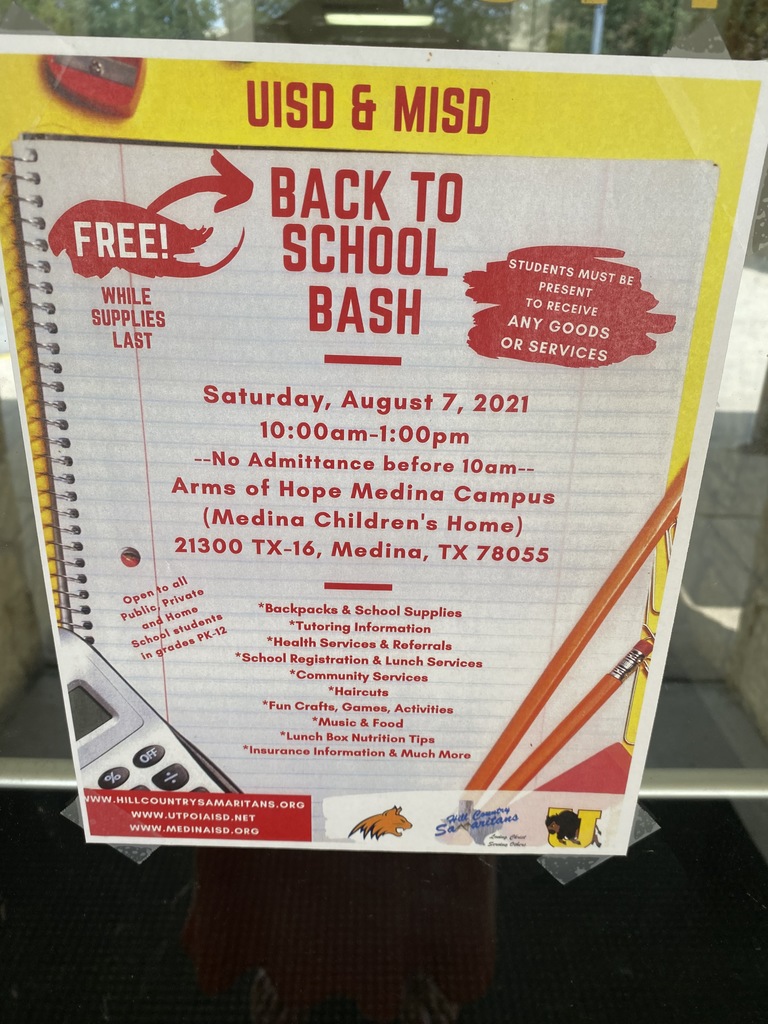 BACK TO SCHOOL BASH SATURDAY, AUG. 7TH 10am - 1pm MEDINA'S CHILDRENS HOME Utopia will be providing a bus for anyone that would like to attend. Please call Mrs. Chamness to reserve a spot on the bus. 830-966-1928 School 830-263-4911 Cell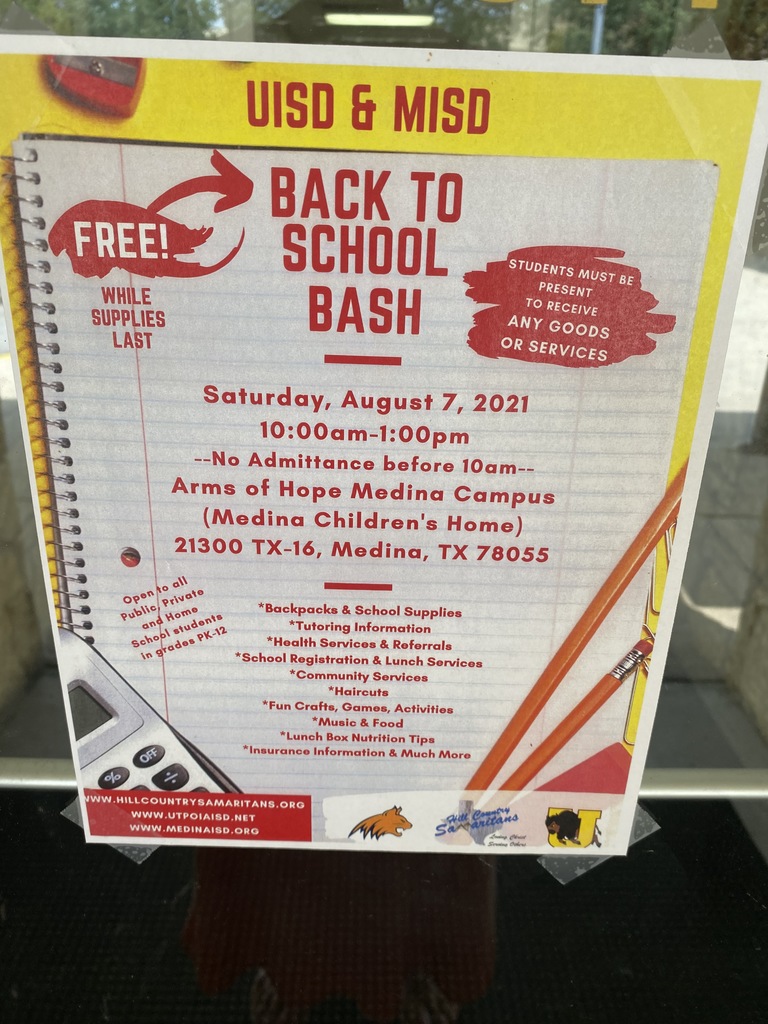 ANNUAL NOTICE OF NONDISCRIMINATION

Utopia ISD Meet the Teacher night will be held on Monday, August 16, 2021, 5:30-7:00pm. • 5:30 - everyone meet in Gym A for introductions and instructions, students will pick up their schedules upon arrival. • 6:00-7:00 - parents and students that wish to visit classrooms will move from class to class according to scheduled periods (bells will sound to move to next period).

2021-2022 REOPENING PLAN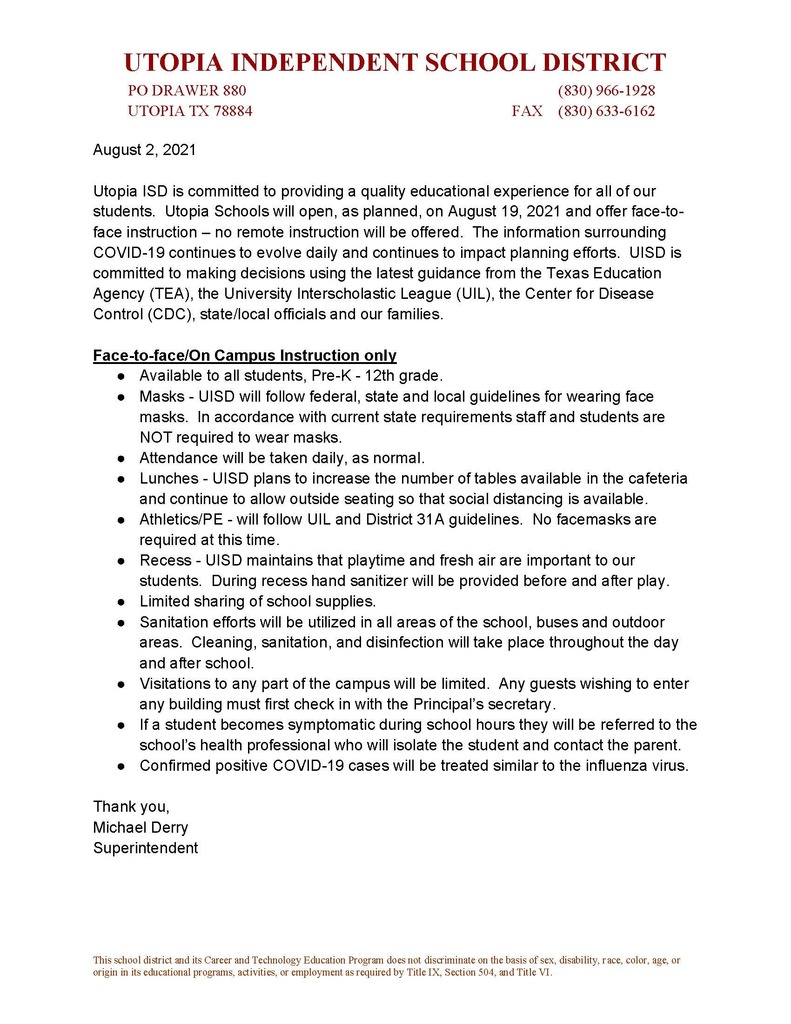 SPORTS PHYSICALS TOMORROW, JULY 29, 2021 Utopia Health Clinic from 9am to 12pm. Please make sure to bring your Physical Form and $10.00 cash. If you have any questions, please call Mrs. Chamness at 830-966-1928

Incoming 8th through 12th grade students and parents please check your email for important information regarding schedules. Thank you.

A quick reminder that library Wednesday will be resuming tomorrow at 10:00 AM. A big creamy bovine surprise and many other activities are planned! Don't miss all the reading fun!!

THANK YOU! THANK YOU! THANK YOU! Thank you to everyone that showed up today to help move all of the furniture back into Mrs. Calk's room! The task was completed in about an hour, so we will not need to have any help tomorrow. Thank you so much to the following people for all of your help! Susan Brucks Kate Calk David Carter Alyssa Culpepper Paisley Culpepper Chance Dean Addi Feller Chad Feller Max Feller Tess Loman Ben Milam Jennifer Shed Jessica Valadez Cody Wells Elijah (Cousin to the Fellers) Thank you to everyone that was willing to come and assist tomorrow as well! Utopia Strong!!!

CALLING ALL HANDS!!! The custodians at Utopia ISD are asking for help to move furniture back into Mrs. Calk's room. Everything had to be moved out because the flooring was replaced due to flooding during the freeze and now everything needs to be moved back. The crew will be moving everything Tuesday morning at 9:00 AM and again Wednesday at 9:00 AM. Any help would be greatly appreciated!

Utopia ISD is holding an online auction of surplus items that are either no longer needed, not functioning properly, or no longer of use. Anyone interested in viewing or bidding on the items may view the lots at
https://www.onlinepros.com/auctions/detail/bw64999
Please read all of the conditions associated with the auction. Times and days for viewing are listed as well as the conditions for sale and pick up of the items.